Irish Steak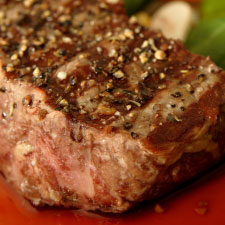 At a Glance
Makes:
1 serving


Ingredients:


1 12-oz. New York strip
Cracked black peppercorns, enough to coat both sides of steak
2 Tbsp. butter
1 oz. Irish whiskey
1/4 cup heavy whipping cream
Fresh chopped parsley


Methods/steps:


Coat both sides of steak with crushed peppercorns. Melt butter in cast iron skillet.

Place steak in pan and cook on one side approximately 6 minutes; turn and cook an additional 4 minutes for medium rare. Remove steak from pan and place on warm platter.

Pour off butter; deglaze pan with whiskey. Set on fire. When flame goes out, continue to cook 1 minute. Add heavy cream and cook on high to reduce.

When sauce thickens, add parsley and ladle onto steak. Serve.